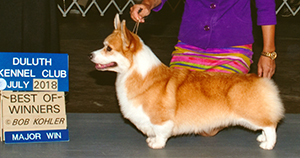 Home
Gail Steinmetz
827 El Vedado
West Palm Beach, FL 33405
(561) 385-1796
keredpwc@gmail.com
PBC HB Permit # 2FHB-08-P0556679

"I have breeding and showing Pembroke Welsh Corgis since 1986, producing my first litter in 1989.
My dogs live in my home and my breeding stock is tested for genetic abnormalities, CERF, OFA, vWD, DM.

Temperament is a primary concern and I breed for dogs that excel in friendly, outgoing personalities.

My dogs are family companions first and foremost. They are show dogs only for a short time.

I am a member of the Sunshine Pembroke Welsh Corgi Club, the Pembroke Welsh Corgi Club of America and the Jupiter-Tequesta Dog Club.

All companion puppies are sold with spay/neuter contracts and I use the American Kennel Club (AKC) limited registration.

**Occasionally, I have young adults looking for their retirement home.
No puppies or dogs available at this time, September 10, 2018